Nonprofit Computer Donations In Cobb County
Your Local Cobb County Computer Donation Center
Free Commercial Pickups  /  Tax Deductible Donations  /  Secure Data Destruction  /  Computers For Kids
What is a technology gap, and how does my computer donation close the gap?
A technology gap is a digital divide that separates people with access to technology from those without it. This divide often leads to limited technological skills within the underserved community, positioning all of its members at a disadvantage against tech-savvy individuals seeking better education, economic opportunities, and social mobility.
New Life Tech Group refurbishes and repurposes outdated computers and electronics to help people in Cobb County's underserved communities and surrounding areas. Your donated computer can help people within your community to bridge the technology gap and position themselves in a marketplace they would otherwise not be able to compete in.
New Life Tech Group's mission is to support these underserved communities and make the tools available to help develop the viable technical skills to excel in an ever-evolving digital workplace. We have several locations in Cobb and surrounding areas that are ready to accept your outdated computer donation for repurposing and recycling.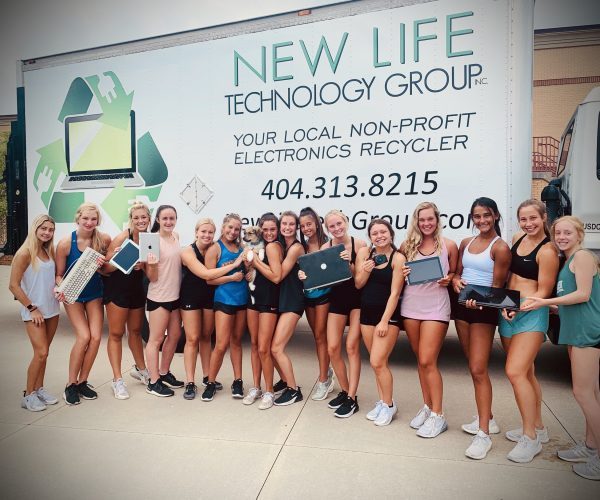 Your Computer Is More Than Just A Simple Donation
Wondering what to do with old computers? Donate them!

Every computer you donate contributes to our mission to protect the environment and closes the technology gap between communities with abundant tech resources and those without. New Life Tech Group collects, refurbishes, and redeploys your computer donations to hundreds of underserved communities. Computers that cannot be repurposed are processed through appropriate recycling channels, keeping them out of landfills and minimizing their harmful effects on the environment.
Is My Donated Computer Tax Deductable?
New Life Technology Group is a qualified 501(c)(3) nonprofit organization. Every cash donation and computer donation (considered a household item) is tax deductible.
Ever since the IRS updated the laws concerning cash and non-cash donations in 2020, donors can now benefit from a tax deduction of up to 100% of their Adjusted Gross Income (AGI) on all cash donations and up to 100% of the fair market value on all non-cash items. How amazing is that?!
Help Your Community and Donate Your Computer
The demand for computer donations and other electronics has been on the rise since the 2020 pandemic and shows no signs of declining. In some cases, the computers you donate might go to schools, after-school programs, or tutoring facilities in your very own community.

Your computer donations play an active role in shaping the lives of people within your community and the surrounding areas. This is what it means to "Be the change you want to see in the world." We are so grateful to all who donate and continue to support New Life Tech Group through tech drives and cash donations.
How To Donate My Outdated Computer In Cobb
We have the talent and the patience to bring outdated computers to life! Even if you think your computer donation might be too far gone, too old, or in really awful shape, donate it anyway. We have the skills to save your outdated computer or recycle it through the appropriate channels. You can free up valuable space in your office or home, and we can help the environment by recycling your old computer to keep it out of local landfills.
Can You Pick Up My Computer Donation?
Absolutely! New Life Tech Group is committed to accepting as many computers and e-waste donations in Cobb as possible. We service Forsyth County, Fulton County, Gwinnett County, Cobb County, and other surrounding areas, including Atlanta, Lawrenceville, and Dawsonville. Contact us today to request a computer donation pickup for your business, commercial, or other bulk computer donations.

Proud to Serve the Following Areas:
Is your location outside of our radius? No worries, just let us know! If there's a way to make special accommodations to pick up your computer donations, we'll find it!
Frequently Asked Questions About Computer Donations In Cobb